At Salisbury Motor Car, we're passionate about our craft. And it shows. From state inspections, manufacturer-recommended service, oil changes, tune-ups, brake and air conditioning service, to high-performance engine and suspension modifications and any other service or repair need, we approach every job with the same care and attention to detail we'd give our own vehicles. We use the latest diagnostic tools and our technicians have decades of experience. While we specialize in Audi and Volkswagen, we're provide service and repairs for any make or model.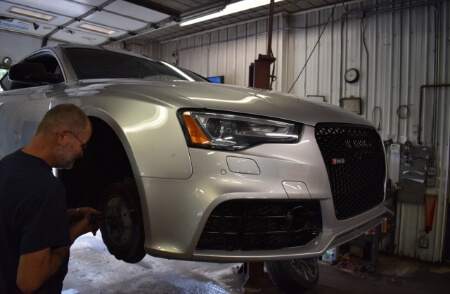 How Can Salisbury Motor Car Help with My Repair Needs?
When you need service or repairs for your vehicle, you want a shop you can count on to do superior quality work, on time and at a fair price. And that's why so many people trust Salisbury Motor Car. With a focus on doing the job perfectly and an emphasis on providing outstanding customer service, our service professionals are committed to your complete satisfaction, every time.
Whether you need a tune-up, repairs or modifications to your vehicle, we promise to do the job quickly and correctly.
We use OEM replacement parts and selected quality aftermarket parts to suit your vehicle and your budget. And we're always happy to answer any questions you may have and keep you updated every step of the way.
Please click here to request a service appointment for your vehicle. We will call to verify your appointment within 24 hours of receiving your request from Monday through Saturday.
Oil Changes
Out of Warranty Service
Tune-ups
A/C service & repair
Brake/ABS service & repair
Check engine light diagnosis & repair
Clutch repairs
Oil Leak repairs
Suspension repairs
Transmission repairs
Performance tuner parts & accessories
High-performance engine and suspension modifications
Audi & VW Specialty Services
If you're thinking about buying a pre-owned Audi or VW? Have our experts give it a thorough inspection using our specialty diagnostic tools.
All Audi Factory Service Interval Work
All Volkswagen Factory Service Interval Work